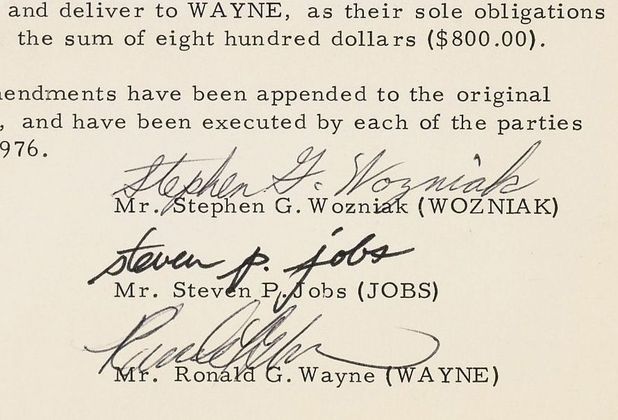 An auction of Apple's founding papers beat Sotheby's expectations, selling for US $1.5 million.
The auction house had estimated the documents would go for between US $100,000 and US $150,000.
The documents, which brought the iconic Apple Corporation into existence in its initial form, are signed by the company's three founders, Steve Wozniak, Ronald Wayne and Steve Jobs.
The papers include an amendment added 11 days later when Ronald Wayne quit.
The buyer was Eduardo Cisneros, chief executive of Cisneros Corporation, whose Miami-based firm owns stakes in a range of businesses covering real estate, TV production and telecommunications.
Five other bidders took part in the sale, according to Sotheby's.
The actual value of the documents is US $1.35 million as a 12% premium is paid to Sotheby's for holding the auction.