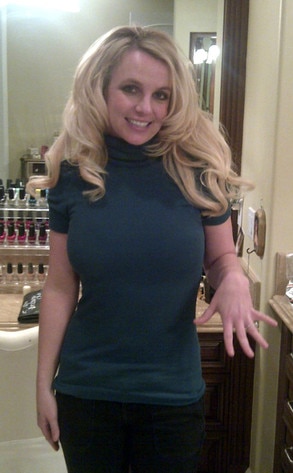 Britney Spears certainly is a glowing bride-to-be—both due to her happiness and the permanent glare coming off that rock of hers.
So who could blame the betrothed 30-year-old for proudly showing off her engagement ring?
MORE: How is Britney bigger than Michigan?
"I can't stop looking at it!!" she wrote on Facebook, along with a photo of herself displaying the bauble (from inside either a nail salon or an enviably stocked dressing room). And thanks to her sharing ways, we don't have to, either!
Fiancé Jason Trawick definitely did her proud when he picked out that doozy, popping the question with the nearly 4-carat round Neil Lane diamond and pave band ring on his 40th birthday last month.
No wedding date has yet been set.