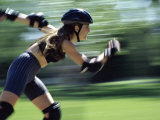 Roller derby was once a popular sport for men and women in the United States until it fizzled out a few decades ago.
Then, about ten years ago, it was revived in Austin, Texas, as an amateur sport for women.
Since then, it has spread all over the U.S. The "Texecutioners," the roller girls from Texas, where the ...
VOA