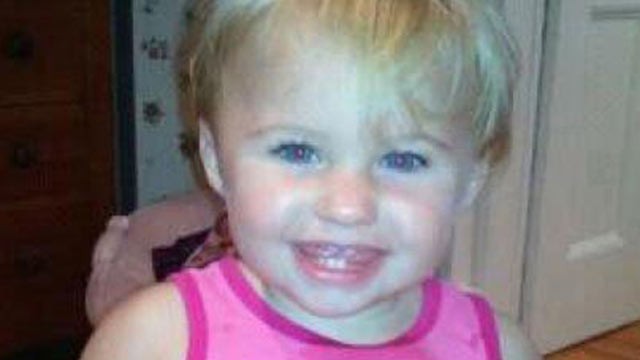 The father of missing Maine toddler Ayla Reynolds, who vanished three weeks ago, says his daughter broke her arm when he was carrying her in one arm and groceries in the other, accidentally slipped and fell on top of her.
"That was completely accidental," Justin DiPietro said of Ayla's injury, according to the Morning Sentinel of Waterville. "I would never harm my daughter.
"I was carrying her," he told the Morning Sentinel. "Usually I let her walk, but it was raining out that night and it was dark. I came up the stairs and slipped. It happened so fast, I don't know exactly how I fell on her, but I fell on her. It's burned into my brain."
DiPietro said he decided to speak out about the incident to end speculation.
"There's value in explaining it," DiPietro told the newspaper. "But to me, I know what the truth is, and it's unbelievable for people to make the accusations that they've made."
DiPietro reported Ayla missing on Dec. 17, telling police he put the 20-month-old to bed the night before and found her missing in the morning.
The girl had been placed in his custody just weeks before by the Department of Health and Human Services because her mother, Trista Reynolds, had entered rehab for substance abuse, according to Trista Reynolds' relatives.
The toddler's grandmother, Becka Hanson, told the Morning Sentinel that she had been watching Ayla while her daughter, Trista, was in rehab, but that Ayla was taken by the DHS and placed with DiPietro. Trista's other child, a 9-month-old boy, remained in the Reynolds' family custody.
Trista and her son are currently living in a motel in South Portland, according to Hanson. Trista Reynolds had filed to regain custody of her daughter Dec. 15, the day before the disappearance. She told ABC News that DiPietro did not know she had filed the paperwork.
According to Trista's step-sister, the missing girl had recently broken her arm at her father's house and had begun showing bruises on her skin, the Morning Sentinel reported.
Waterville police chief Joseph Massey has said the girl broke her arm during an accidental fall.
Police continue to investigate her disappearance. Canvasses of a nearby river and aerial searches have turned up nothing. Massey said the police are following every lead that comes in from the public, and have not ruled out abduction.
Waterville police, state police, game wardens and the FBI are all involved in the search, with more than 75 law enforcement agents now helping the investigation, Massey said. Twenty-five agents helped conduct the river search, which Massey called a "logical" step because of its proximity to where Ayla was last seen.
The state police department has now taken over the investigation.